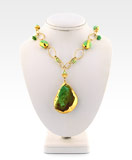 Welcome
You've probably already seen our creations on celebrities, in the fashion magazines and on the catwalks. Now you can work with them in your lines as well. Please feel free to use any necklace designs you see on our site as inspiration.

We do Facetime Virtual Tours.
See the merchandise in our showroom and select what you see. Call us to make an appointment

(323) 525-1007

Videos
Please check these videos to see some of the items currently available.
Due to Gold, Rhodium, Black Ruthenium, and Silver's rising prices, we have had to implement a surcharge. Please call us at the office, and we can go over that with you. The number to call is 323-525-1007

On August 2020, it was ranging from 5% to 10% of list prices. All list prices are subject to change at any time. The cost of Silver, for example, had doubled in the last year. Gold is up 50%.
Showroom Hours
Mon. - Thur.
10:00am - 6:00pm
Fri.
10:00am - 5:00pm
Appointments for later hours or weekendd are possible but not guaranteed. Call us (323-525-1007) and we will see what we can do to accommodate you.
Minimum purchase for new Wholesale accounts is $250 plus a wholesale license. Existing Wholesale is $150.
Registration and Login
Ordering, Comments or Questions
Please click Register and fill in Registration form and submit to us.
Online Catalog
We are trying to get more of our jewelry online. Prices shown on our website are suggested retail. For wholesale prices you need to contact us. We currently do not sell online, our catalog is only meant to be a guide as to what we have. To see our wholesale prices you need to call us at (323)525-1007 to get the user name and password. Then you can click: Pricelist. You will be redirected to our wholesale website.
INTRODUCTION TO GODDESS
Wholesale to Trade
Our main direction is as a supplier of components to designers and bead stores such as our real leaves, stones and sea-life that are preserved or trimmed in 24 kt gold, chains in either footage or precut lengths, chain findings and charms.
We have the latest and most popular styles of chains and an incredible array of charms ranging from hearts, goddess, animals, nautical, fantasy, art nouveau, western, playful and religious symbols and much, much more. We also make quality tags and can do custom designs in castings. Click: Order form for Leaves and Sea Life. You can print this and fill it out and fax it to us at 323-525-0411.
Wholesale Buyers
Designers and Store Buyers
This is a wholesale website. If you are a Jewelry Designer or a Store, please register with us. Our wholesale price lists are viewable on line. Minimums apply for our best prices. Please call us at (323)525-1007 to answer your questions or to take an order. Open Wholesale Account
PDF version of the pages below available for download (16MB)
For best printing results we recommend photo quality paper and a high quality printer
PDF version of the pages above available for download (16MB)
For best printing results we recommend photo quality paper and a high quality printer

Phone: 323-525-1007
Fax: 323-525-0411
Address: 7206 Melrose Ave. Los Angeles, CA 90046
Contact Us